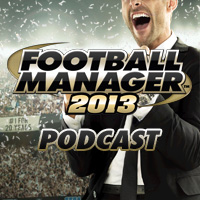 From the people that bring you Football Manager, it's the podcast that keeps one eye on the pitch and the other on the dugout.
In this, the penultimate show of the current series, presenter Ankur Desai and FM supremo Miles Jacobson sit down with the London Evening Standard's James Olley (@JamesOlley) and Danny Lynch of Kick It Out (@kickitout) for a broad discussion covering such subjects as Pep Guaridola's decision to ply his trade in Munich for the next three years, players who've failed to achieve their potential and how the Championship seems to have turned into a game of managerial musical chairs. There's also an exclusive insight into Miles' in-game tactics, a revelation about a new feature that's been lined up for Football Manager 2047 (well… almost)… and, of course, an opportunity to win a copy of Football Manager 2013.
Subscribe to the podcast on iTunes by clicking here or to the RSS feed by clicking here.